Tooth Extractions – Huntsville, OH
When Teeth Are Beyond Saving
The idea of having a tooth extracted is never an inviting one, and our team will always try to help you avoid that situation with an appropriate restorative treatment. But what if the damage is simply too severe? In some situations, tooth extraction may be the only option remaining. With Dr. Grill's help, you can have your teeth removed (and, ideally, replaced) without unnecessary discomfort or trouble. Give us a call right away if you're worried that you may need an extraction soon.
Why Choose Northwest Family Dental of Huntsville for Tooth Extractions?
Lifelike Replacement Options
Sedation for Nervous Patients
Gentle Dentist Who Cares About Comfort
Reasons Why Tooth Extractions Are Necessary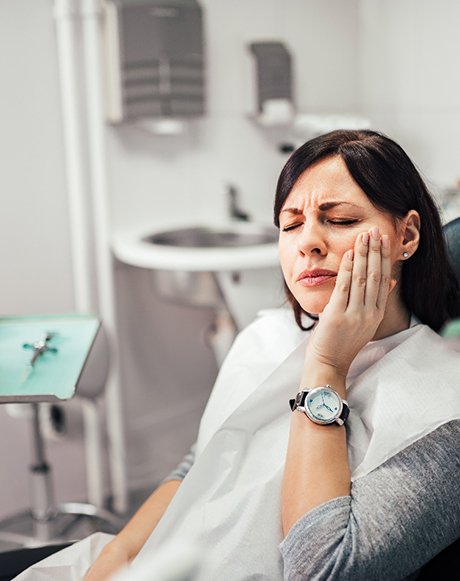 Some situations where a tooth extraction might be required include:
Infection: The pulp inside your tooth could potentially become severely infected. This could lead to even more dire health issues if the problem starts to affect other parts of your mouth.
Irreparable Damage: Cracked, chipped, or otherwise damaged teeth can often be repaired. However, if the tooth is too weak for a restoration, it may need to be removed.
Overcrowding: Sometimes your teeth might be crowded too close together, and space needs to be created before certain treatments (such as Invisalign for orthodontic corrections) can be performed.
Dentures: Dentures are often needed if you plan on replacing an entire row of teeth, but any teeth that are still in your mouth have to be taken out first.
If you're not sure why tooth extraction is being recommended, don't be afraid to ask our team; we want you to be fully informed when it comes to your care and why specific steps might need to be taken.
The Process of Removing a Tooth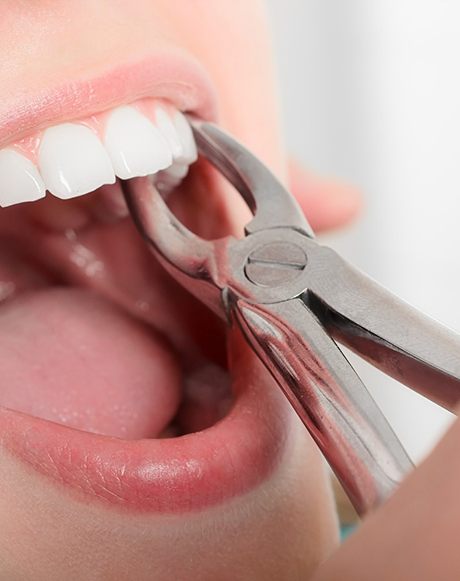 After we've ruled out any other treatment options, we will determine what kind of extraction you require. Sometimes, the tooth just needs to be loosened with a dental elevator so that it can simply be taken out of its socket. However, there are cases where a surgical approach might be required, such as when a tooth is impacted or is so badly broken that it can no longer be seen above your gums.
Regardless of the type of tooth extraction being performed, step one will always be to numb your mouth. Also, sedation might be used if you're nervous about the procedure (or have a fear of dentistry in general).
Tooth Extraction Aftercare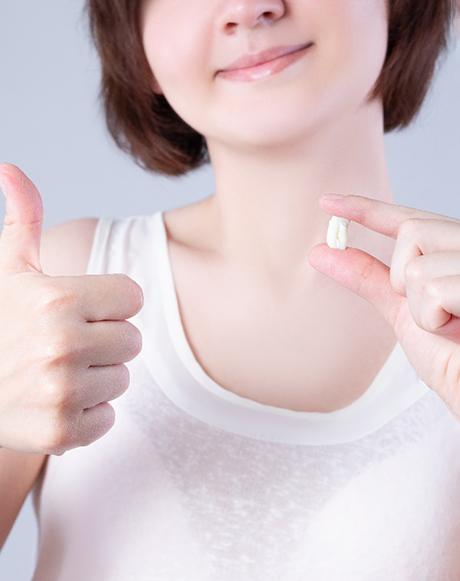 The aftercare instructions you receive after a tooth extraction may vary depending on how extensive it was, but there are a few tips that are always worth keeping in mind:
Protect the blood clot that forms at the extraction site by avoiding activities that might cause it to move out of place, such as drinking through a straw or spitting.
Don't chew with the side of the mouth where the tooth extraction was performed, and stay away from hard foods for a while.
When you go to bed, use a pillow to make sure that your head stays raised.
Manage any pain you might be experiencing with ibuprofen and similar medications.
Understanding the Cost of Tooth Extractions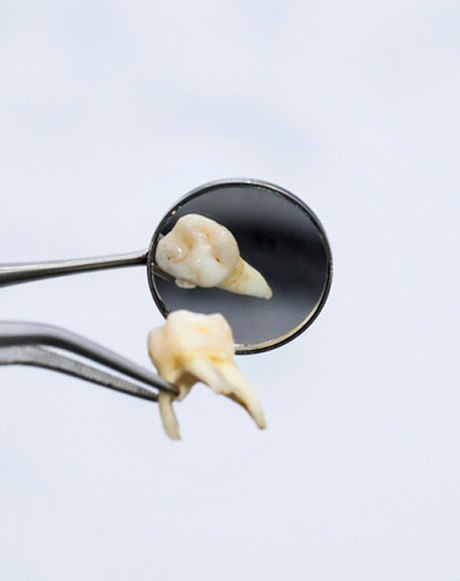 Tooth extractions are only recommended when necessary, so if you're told that you need one, you should immediately start taking whatever steps you can to ensure that your treatment is affordable. An estimate can only be provided after our team has completed an examination of your mouth. In the meantime, though, here are some relevant factors that could influence the price of the extraction process and some tips for keeping your out-of-pocket costs under control.
Factors That Can Affect Tooth Extraction Cost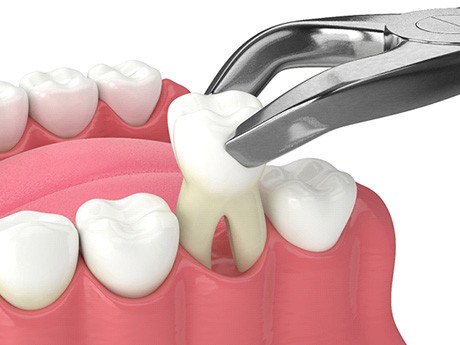 It may be tempting to think that all tooth extractions are the same, but the complexity of the treatment – and therefore, the overall cost – often depends on which tooth needs to be removed. You can generally expect a higher price tag for an extraction involving a tooth near the back of your mouth. And of course, it costs more to have two or more teeth extracted than it does to have just one tooth removed.
It's also important to keep in mind that tooth extractions are often divided into two categories: simple and surgical. You may require a surgical extraction if your tooth has not fully erupted. As a result, you can expect the extraction process to cost more.
In addition to the price of the actual tooth extraction, you should also consider how much it might cost to fill the gaps in your smile. Dental bridges, dentures, and dental implants all come with a number of factors that could affect the amount you pay for them.
Does Dental Insurance Cover Tooth Extractions?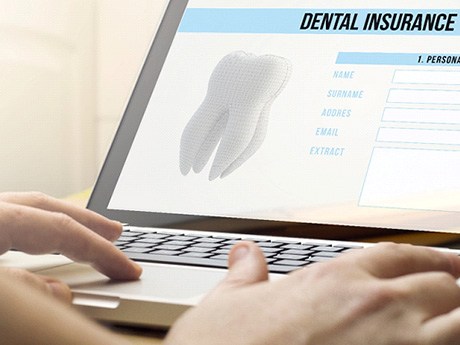 Dental insurance does often offer some coverage for tooth extractions. It's common for dental insurance companies to pay around 50% of the total cost of the procedure, but don't forget that factors like your deductible or your annual maximum could have an impact on the amount that you need to pay yourself. When planning any kind of dental work, it's often a good idea to reach out to your insurance company to confirm that you understand your plan.
How to Make Tooth Extractions Affordable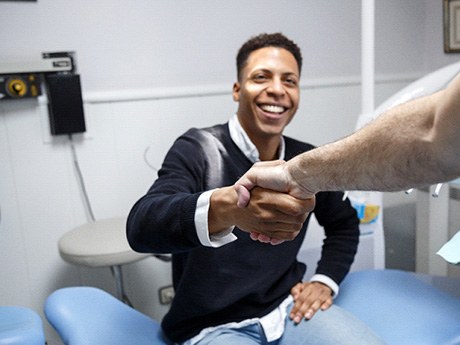 Our practice offers a number of in-house membership plans to help our patients save money on their care. Each plan comes with a 15% discount for many of our services. On top of that, if you apply for CareCredit or Cherry financing, you can pay for your tooth extraction in monthly installments, meaning you won't have to make room in your budget for the entire cost all at once. Talk to our team members for more information on how we can help make paying for a tooth extraction less of a stressful experience.