Dentures – Huntsville, OH
Fill the Holes in your Smile!
There are all kinds of reasons that someone could lose their teeth, but no matter how you lost yours, dentures in Huntsville can be a great way to fill the holes in your smile. With these prosthetics, you can smile, laugh, talk, and chew your food in ways that you may have not been able to for a very long time.
Dentures look fantastic and can be used to replace any number of teeth, so even if you're missing all of them, reach out to us at Northwest Family Dental of Huntsville. Dr. Kevin Grill and the rest of our team can give you a beautiful smile that you'd be happy to show off!
Why Choose Northwest Family Dental of Huntsville For Dentures?
Prosthetics Made of the Highest Quality Materials
Comfortable Office filled with Cutting-edge Technology
Accepts a Wide Variety of Insurance Plans
Who's a Good Candidate for Dentures?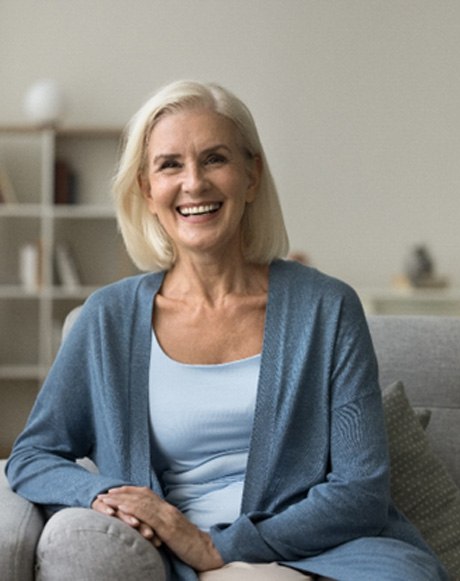 There is more than one way to regain a complete smile, so before you fully commit to getting dentures of any kind, you should confirm that they're truly your best option. Most adults with some form of tooth loss can potentially get dentures, but it's still necessary to have your smile examined by an expert before you decide to move forward with anything. Feel free to schedule a consultation with us to discuss your candidacy for dentures.
Effects of Missing Teeth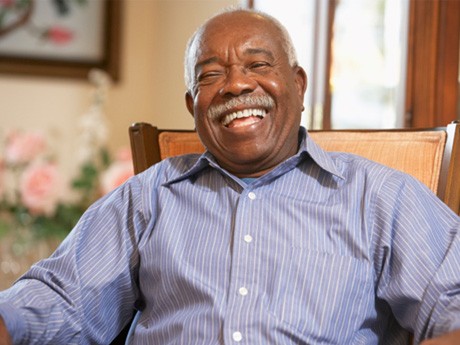 Tooth loss can happen for a wide number of reasons, and some cases are more severe than others. Regardless of why your smile is incomplete, though, it's important to be aware of how missing teeth can affect your life:
You may start to feel self-conscious about the empty space in your mouth, making you less likely to smile in front of others.
Your nutrition might suffer due to not being able to eat as many different kinds of foods as you used to.
Other people might have trouble understanding you when you talk due to the way missing teeth affect your ability to enunciate your words.
You may start to look older once your facial features collapse as a consequence of tooth loss.
In short, tooth loss is a problem that needs to be dealt with immediately if you want to keep its impact on your quality of life to a minimum. That's why it's best to find out whether you're a good candidate for dentures as quickly as possible.
What Qualifies You for Dentures?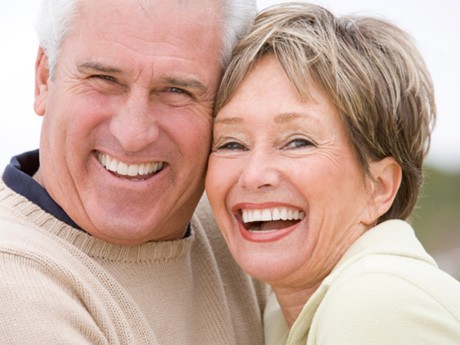 There are a few criteria that can help determine whether you're able to get dentures or not. We may recommend this type of prosthesis if:
You have lost multiple teeth or all of the teeth in your upper and/or lower jaw.
Your gums are in good health overall.
There is enough bone in your jaw.
And of course, we'll also need to figure out the kind of denture that best fits your needs. You have the option of getting a partial denture, a full denture, or an implant denture; we'll let you know what kind we suggest based on the specifics of your situation.
Alternative Tooth-Replacement Options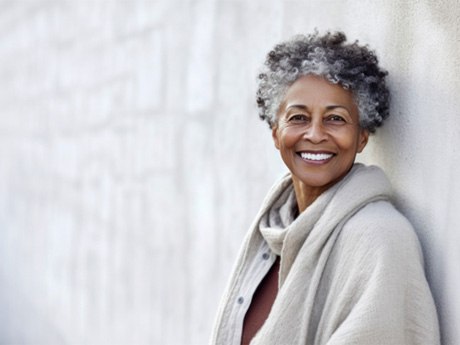 Sometimes you may consider dentures to replace your missing teeth only to discover that they aren't actually the best choice for your mouth. What other methods of tooth replacement can you consider instead? Here are some potential solutions:
Dental Bridges: A dental bridge can be anchored to real teeth in order to fill in gaps in your smile. We can create dental bridges out of materials that very closely resemble your natural teeth.
Dental Implants: Dental implants can act like replacement tooth roots and stop your jawbone from degenerating. We can refer you to a local specialist to have dental implants placed.
Types of Dentures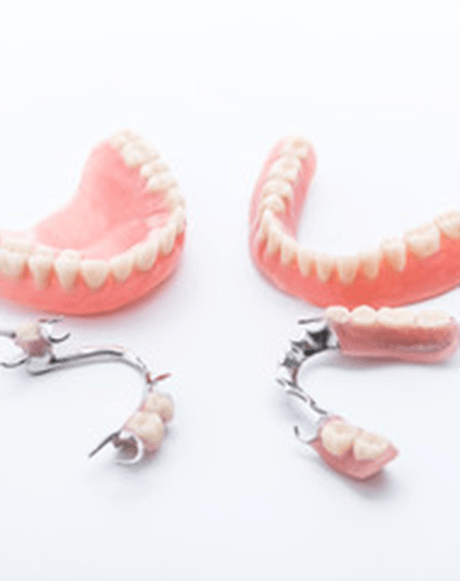 There are three types of dentures: full, partial, and implant. The differences between them are not just how many teeth they can replace, but how they remain in the mouth.
At your consultation, Dr. Grill will help you discover which of these options is the best for you and your unique smile.
Partial Dentures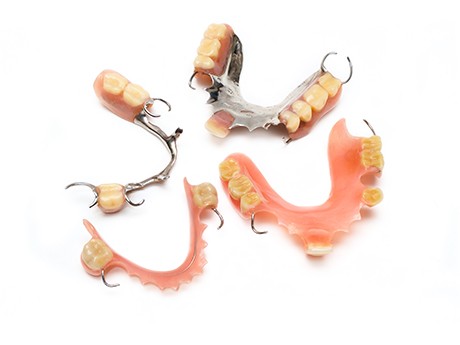 If you are missing even just a few of your teeth, it can dramatically hinder your ability to chew and talk. Thankfully, partial dentures are designed specifically to replace a small section of teeth.
These dentures use a gum-colored acrylic base and lifelike replacement teeth. They have small metal hooks that allow them to attach to the surrounding teeth and stay securely in place.
Full Dentures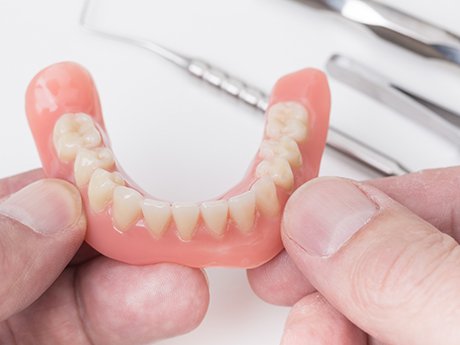 If you're missing all your teeth, full dentures can replace a whole arch all at once. The base of these dentures is designed to fit snugly over the gums and remain there due to suction. That means no metal hooks, but all the same security you can expect from partial dentures.
Implant Dentures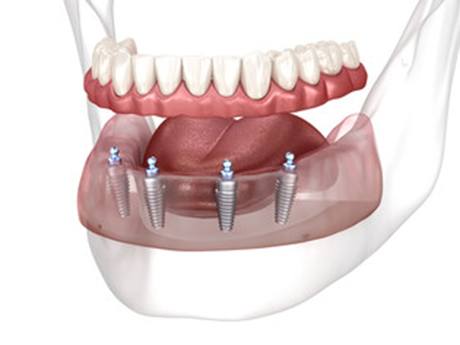 Both of the above dentures are removable, which can make cleaning easy but sacrifices some stability. Implant dentures, on the other hand, are affixed permanently to dental implants.
This means that their bite force is much stronger than other kinds of dentures and that they will be much less likely to accidentally fall out while speaking or chewing.
How Dentures are Made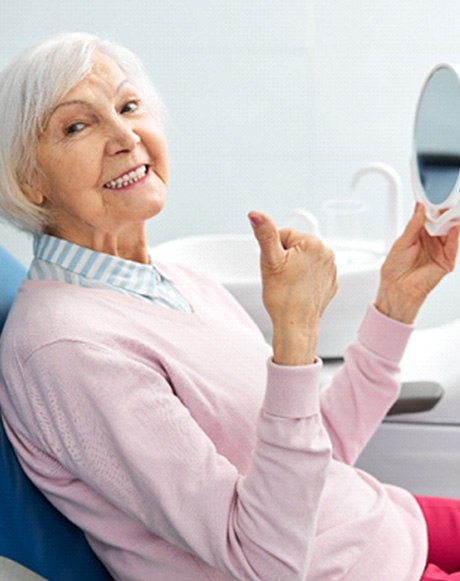 Normally, you might not give much thought to how dentures are made, but you may become more interested in the process once you need a prosthesis of your own. You might find that seeing your newly re-completed smile in the mirror is more rewarding when you know what steps had to be taken to get to that point! Read on for a brief look at the denture creation process. Don't hesitate to let our team know if you're interested in learning more.
What Are Dentures Made Of?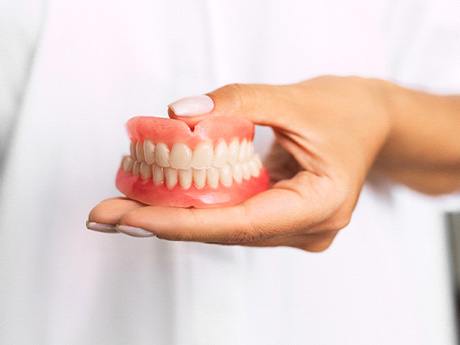 There are two main parts of your denture: the artificial teeth used to rebuild your smile and the base that supports them. Both components are made out of carefully chosen materials:
Artificial Teeth: The teeth attached to dentures are often made of either resin or porcelain. Porcelain is the option that dentists go with more often thanks to its reliability and how natural it looks.
Denture Base: The base of a full denture will typically be composed of acrylic, which can be made to resemble your gums. Partial dentures often have an acrylic base along with metal clips meant to keep them attached to your mouth. There are cases where nylon might be used instead of acrylic.
The Denture Creation Process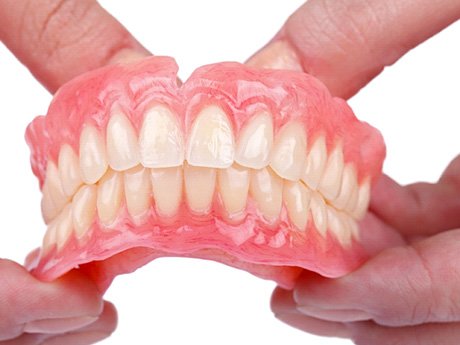 As you can probably guess, our team will need to take impressions so that your dentures can be tailored for your specific mouth. But what happens after the impressions have been captured? Here is a step-by-step breakdown:
Our team will create a plaster model of your mouth and send it to a dental lab.
Using the provided model as a guide, the experts at the laboratory will create a replica of your gumline out of wax.
The artificial teeth will be attached to the wax replica, resulting in a wax denture that will be slightly adjusted before it is sent to our office.
We will schedule an appointment with you to see if the wax denture fits. If it does, it will be sent back to the lab so that the process can continue. (Note that you will be wearing temporary dentures while your permanent ones are being made.)
The wax dentures will be put in a special holding device, which will then be filled with plaster. Hot water will be used to melt away the wax portions of the dentures. Then acrylic will be injected into the container to act as the new base for the artificial teeth.
An ultrasonic bath will be used to get rid of the plaster on the acrylic dentures.
The completed prosthesis will be sent to our office one last time so that they can be fitted. Once we've finished with the final adjustments, you'll be able to walk out of our office with a confident new smile!
Adjusting to Your New Dentures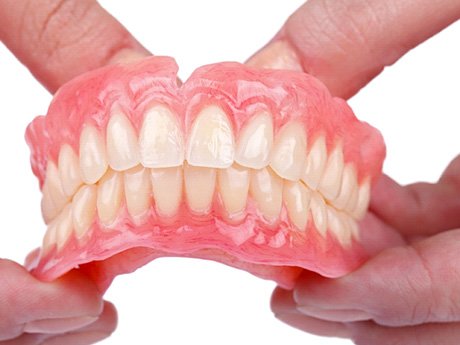 New dentures may cause your mouth to feel sore at first, and it will take time to get used to speaking and eating. Rest assured, though, that your mouth will get used to your dentures with enough time. If you want to speed up the adjustment process, feel free to ask our team for advice.
The Benefits of Dentures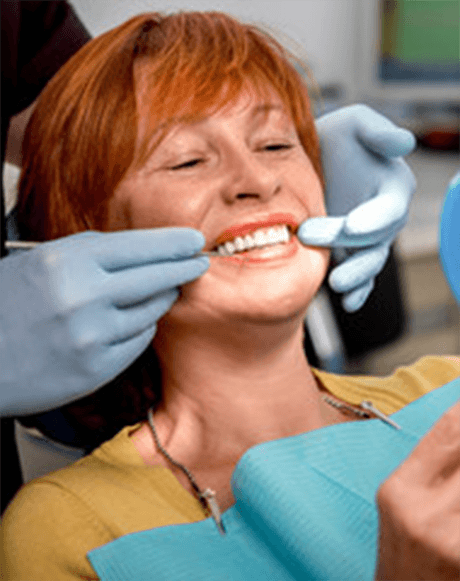 In many ways, the benefits of dentures speak for themselves. They let you do practically everything the teeth you were missing could do—chew, eat, talk—much more easily than you can without them. There are also many aesthetic benefits of dentures, like their ability to help your cheeks look fuller and more youthful.
The dentures themselves also look great. They'll be custom-tailored to fit your mouth and will look almost indistinguishable from natural teeth.
Finally, dentures are one of the most cost-effective tooth replacement options, and their ease of upkeep makes them the most convenient way to fill holes in your smile.
Understanding the Cost of Dentures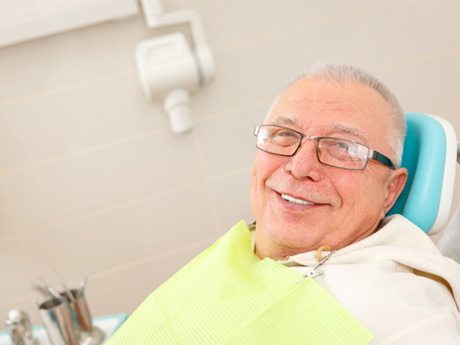 The cost of dentures in Huntsville is different for everyone. Each person exhibits various needs, which cannot be determined until meeting with our dental team for a scheduled consultation. During this visit, we will go over these factors so that we not only formulate a personalized treatment plan but also a clear estimate of how much you can expect to pay for your new teeth. Before you arrive for this visit, we encourage you to read over the following information so that you have a better understanding of the cost of your new dentures.
Factors That Affect the Cost of Dentures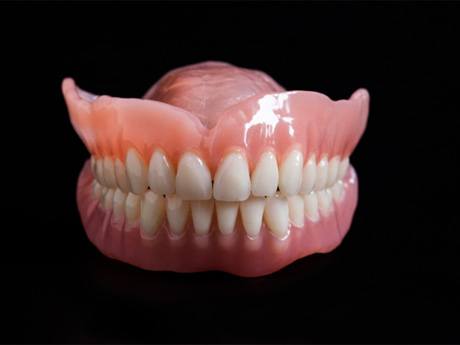 When meeting with Dr. Grill to discuss your denture treatment, you can expect that he will examine your mouth and determine the following:
How many teeth are you missing? Multiples or an entire arch?
The kind of material that will be used to construct your dentures and artificial teeth
Do you require any kind of pre-denture treatment that includes gum therapy, tooth removal, or jawbone grafting?
Once he compiles his findings and analyzes them, he can offer a more clearly defined estimate for your dentures. When explaining the details to you, there is a good chance you may wonder if cheaper materials are available. While there are, you can expect to learn why we choose a higher-grade option for our patients. Not only does it stand up to greater wear and tear, but it also delivers long-lasting results, helping you to save money in the long run.
Are Implant Dentures More Expensive?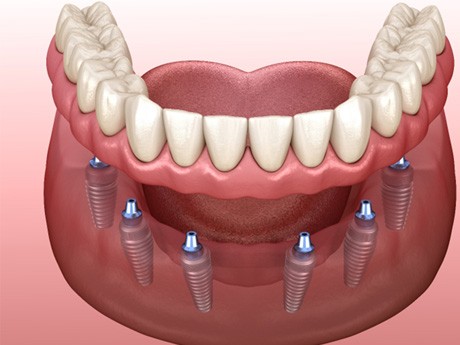 Instead of choosing traditional dentures, there is also the option for implant dentures. These permanent prosthetics are different in that they replace more than just the crown. They also replace the root. However, they are more expensive than regular dentures. But if you want permanence and longevity, you can't go wrong in choosing implants. Because they are placed within the jawbone, they offer greater stability and allow you to use your teeth as normal.
Does Dental Insurance Cover Dentures?
When evaluating how you plan to pay for your dentures, you may turn to your dental insurance company for help. What kind of coverage do they offer? To find out, you'll need to review your benefits. In many cases, insurers offer up to 50% coverage for this type of restorative care. Our team will be happy to review your policy for you so that you can better understand how much you will need to pay out of pocket on the day of your appointment.
Other Options for Making Dentures Affordable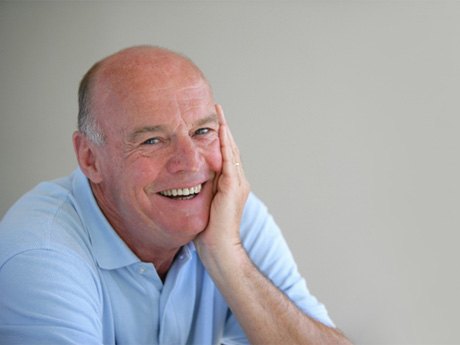 At the dental practice of Dr. Kevin Grill, your denture dentist is pleased to provide two alternative options for payment: an in-house membership plan and flexible financing.
With the membership plan, you can pay one low annual fee and receive access to a breadth of services. Not only will you get free preventive care, but you'll receive valuable discounts on other major treatment options.
If you prefer flexible financing through CareCredit or Cherry, you can enroll in a low-to-no-interest plan that promises no surprise fees. This makes it easy to pay off your treatment over time instead of all upfront.
Denture FAQs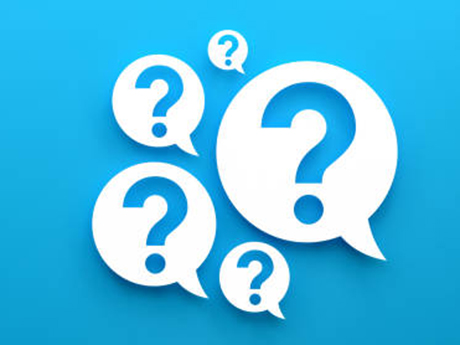 Dentures in Huntsville are a trusted method of treating significant tooth loss because they have decades of proven success. However, they are a big investment, and it's normal to have a few concerns. Don't worry, Dr. Kevin Grill will explain everything during your denture consultation. He will help you make the best decisions for your smile. While you wait for your appointment, here are the answers to the most frequently asked questions about dentures.
Can I Sleep With My Dentures?
Dr. Grill will instruct you to wear your dentures for 24 hours after getting them, but then you must remove them nightly. No one wants to get caught without their teeth, but your oral and general health depends on taking them out before bed. Dentures restrict blood circulation to your gums, which can lead to inflammation, pain, and infections if the soft tissues aren't given a break. Not to mention, the lifespan of your new smile also relies on nightly removal. Your toothbrush cannot remove all bacteria that can affect your dental health and overall wellness. Placing your dentures in a soaking solution at night kills bacteria missed by your toothbrush. It will keep your dentures clean, give your mouth a break, and ensure your new smile lasts. Soaking your dentures supports a healthy mouth and body.
Can I Eat Steak With Dentures?
It's entirely possible to eat steak with dentures, but it may not be the best idea. Steak and other tough meat require a lot of chewing, which can make your gums and jaws sore. It also puts excessive wear and tear on your dentures, which can cause you to need replacement sooner. Your denture dentist in Huntsville recommends limiting how often you eat steak and other chewy meats. If you can't resist a juicy steak, cut it into small pieces to make it easier to chew. A denture adhesive can also provide enhanced stability, so you won't have to worry about your teeth slipping or falling out.
Do I Use Regular Toothpaste to Clean My Dentures?
Dentures can't get cavities, but you still need to brush them after every meal. Food particles and plaque host bacteria that can damage your dentures, cause unpleasant odors, and harm your oral health. Brushing will remove buildup to keep your dentures clean and looking their best. Not just any toothpaste will do. It's best to use a soft-bristled toothbrush and nonabrasive toothpaste or mild dishwashing liquid to clean your dentures. Don't use anything abrasive because it can scratch them.
Does an Upper Denture Always Cover the Palate?
It's not unusual to have concerns about an upper denture changing the way food tastes if it covers the roof of your mouth. Whether you're worried about irritation or decreased taste sensations, a top denture doesn't always have to cover your palate. There are many styles to choose from, like those with a horseshoe shape. Dr. Grill will explain all your options to choose the best prosthetic for your needs and preferences.