Emergency Dentistry – Huntsville, OH
We Provide Emergency Dentistry to Logan County Residents and Vacationers Alike
Dental emergencies don't discriminate; they can happen to anyone at any time. To make sure you get the prompt care you need for a hurting, damaged, or knocked-out tooth, call Northwest Family Dental of Huntsville as soon as you can. We offer same-day appointments for emergency dentistry in Huntsville, OH. The faster you can see us, the faster we can relieve your pain and restore your smile.
Why Choose Northwest Family Dental of Huntsville for Emergency Dentistry?
Same-Day Appointments
We Welcome Patients of All Ages
Nitrous Oxide Sedation Available to Calm Nerves
How We Treat Dental Emergencies
Schedule a visit that same day – The moment you get in touch with a member of our team, we'll find out as much about your symptoms as we can. From there, we can clarify how urgent your situation is, schedule an appointment for you accordingly (usually on the same day), and give basic first-aid tips in the meantime.
Examine your smile – Once you get to our dental office, we'll work to get you seen by Dr. Kevin Grill right away. He'll take a thorough look at your mouth and determine whether digital X-rays are needed to pinpoint the source of your discomfort.
Break down your treatment options – Dr. Grill will explain the findings of the exam so that you'll have a clear picture of what's going on with your oral health. He'll also outline a recommended plan for addressing the emergency and ensuring it doesn't happen again.
Provide the care you need – As soon as we've provided cost and timeline estimates and confirmed the treatments you need, we'll begin healing your smile.
The Most Common Dental Emergencies
If you're experiencing some kind of dental problem but you're unsure whether it qualifies as a "real" emergency, please contact us anyway. Most dental emergencies get worse the longer they stay untreated, so it never hurts to have Dr. Grill take a look. In the meantime, here is some helpful information about the dental emergencies we see the most often.
Understanding the Cost of Emergency Dentistry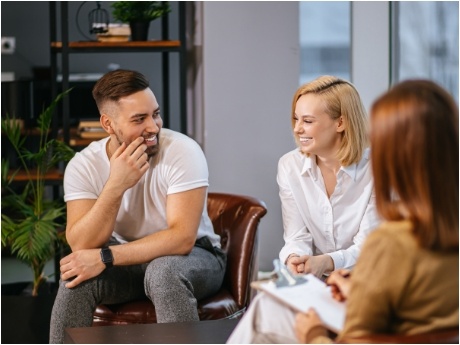 Some dental emergencies are more complex than others, and the costs of treating them reflect that. For example, a toothache might be remedied with a simple filling, or it may require a root canal and crown, which understandably costs more. Whatever treatment your smile needs, our team will thoroughly explain the fees associated with it beforehand so that you won't be faced with any unpleasant financial surprises later on. We'll also review your options for making your care affordable, such as dental insurance and our in-house membership plan.
Every Dental Emergency Has a Different Price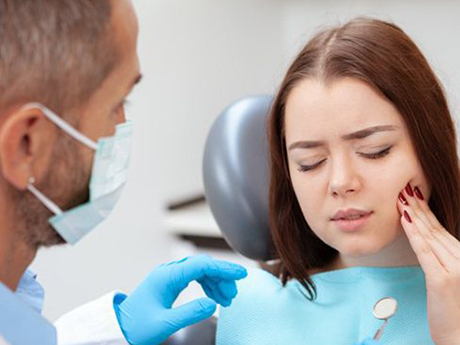 Patients are often surprised to learn that the initial visit with their emergency dentist in Huntsville is relatively inexpensive. However, the cost of addressing your specific emergency will vary depending on the oral health problem at hand and the services that we need to perform. This means that it's essentially impossible for us to give you a cost estimate unless and until you come in for an appointment.
After Dr. Grill has examined your mouth and assessed the extent of the damage, our team can work with you to develop a custom treatment plan for relieving your discomfort and getting your smile back on the right track. Rest assured that we won't begin any procedures until we've outlined the associated costs and made sure you're comfortable with them.
Does Dental Insurance Cover Dental Emergencies?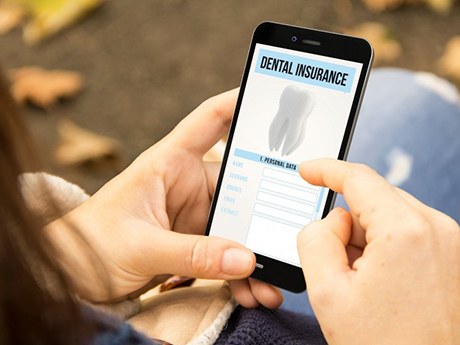 If you have dental insurance, you'll be pleased to learn that your plan most likely provides some coverage for emergency care. Many plans, for example, will cover the cost of one emergency dental exam per year. Dental crowns, root canals, fillings, and several other services commonly used to treat emergencies are also covered at around 50% to 80% in many cases.
Every plan is different, however, so we can't know for sure how much coverage yours will provide until we've taken a closer look at it. Our team will gladly handle the paperwork involved in making the most of your benefits and ensuring you save as much as possible.
Other Options for Making Dental Emergencies Affordable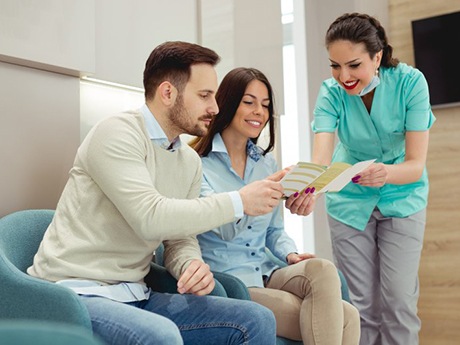 Besides dental insurance, our practice has other ways of helping you fit the cost of emergency dentistry in Huntsville into your budget:
CareCredit financing – Patients with or without insurance are welcome to apply for a monthly payment plan with CareCredit, a third-party financing company that has helped thousands of Americans afford their dental and medical care. Many of these plans have low or no interest rates, allowing you to easily split up your treatment costs.
Membership plan – Our in-house dental plan is a convenient alternative to traditional insurance. For one flat annual fee, you get many of the same benefits as insurance – including one emergency exam per year – without all of the red tape.
Taking Care of Your Smile Can Save You Big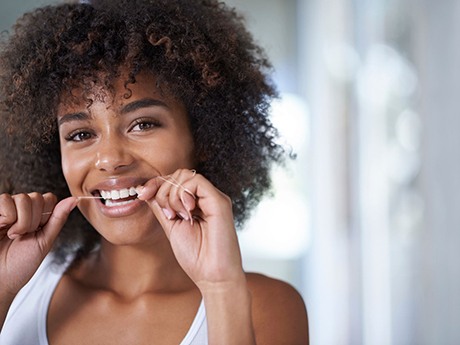 Sudden accidents can't always be predicted, but you can actually reduce your risk of most dental emergencies by being proactive about your smile. For instance, investing in regular dental checkups and a solid at-home oral hygiene routine will go a long way toward preventing plaque buildup and painful tooth infections.
Another way to save on emergency dental care is to call our office as soon as possible when you notice something is wrong. Without treatment, the problem will only get worse and may end up requiring more complex and expensive procedures. Seeing our team right away will save you money while also getting you out of pain more quickly!
Keys to Preventing Dental Emergencies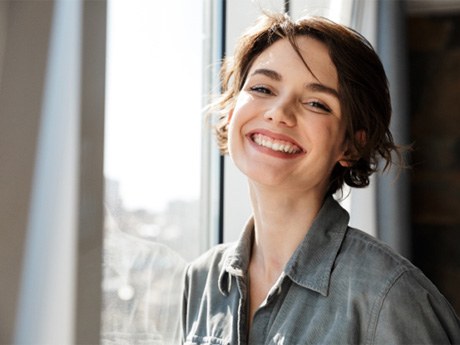 Did you know that most dental emergencies are the result of untreated damage or infection? By taking certain steps to protect your smile, you can significantly lower your chances of damaging it. Since dental emergencies can be stressful, frightening, and difficult to manage, it's best to do what you can to avoid them in the first place. At Northwest Family Dental, we want to arm you with the information you need to prevent dental emergencies in Huntsville. To learn more, continue reading or give our office a call today!
Visit Your Dentist Regularly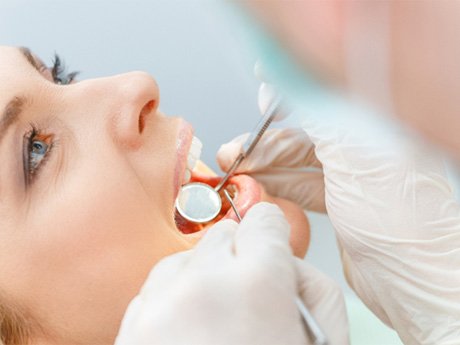 If you haven't seen one of our dentists in over six months, schedule an appointment with us as soon as possible. It's incredibly important that you stay on top of your routine checkups to keep your smile in optimal condition. We'll professionally clean your teeth and conduct an oral examination to ensure no problems are developing. By addressing any issues early on, we can prevent them from turning into painful complications down the line.
Maintain Good Oral Hygiene at Home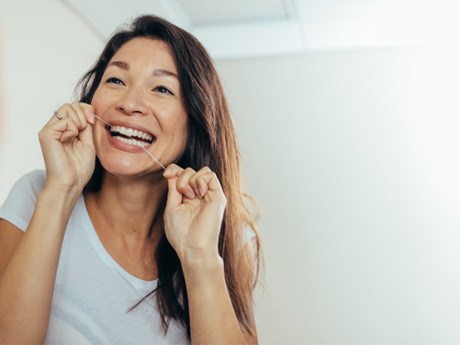 Brushing twice a day, flossing daily, and rinsing daily with an ADA-approved mouthwash are essential practices that help ward off oral health problems. If you fail to take proper care of your teeth and gums harmful bacteria can accumulate in your mouth and accelerate enamel deterioration, causing infections to develop. As long as you regularly practice good oral hygiene, you can spare yourself from experiencing a dental emergency.
Stick to a Nutritious Diet
Believe it or not, your diet has a significant impact on oral health. Avoid overindulging in starchy, sugary, and acidic foods as they can contribute to problems like decay and gum disease. Instead, stick to a diet full of nutrient-rich foods! Fresh fruits, vegetables, lean proteins, whole grains, and dairy products can help your smile stay healthy for years to come.
Wear a Mouthguard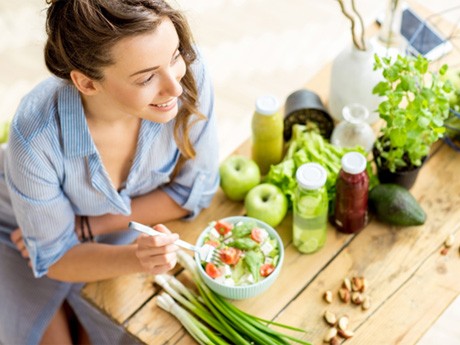 Do you regularly play sports or grind your teeth at night? If so, ask our dental team about a custom-made oral device. An athletic mouthguard can protect your teeth and gums from any impact should you sustain a blow to the face. Meanwhile, a nightguard can keep your enamel safe from the force of you grinding your teeth at night.
Use Tools to Open Packages, Not Your Teeth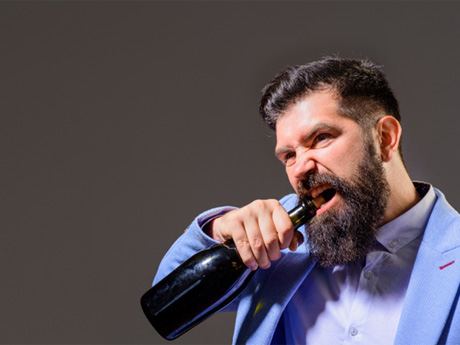 Have you ever had trouble opening a package or bottle? You may have been tempted to use your teeth as a last-ditch effort. Unfortunately, using your pearly whites for anything other than chewing food can cost you a trip to your emergency dental office in Huntsville. That said, it's best to wait until you have the right tool or ask someone to lend you a helping hand.
Dental Emergency FAQs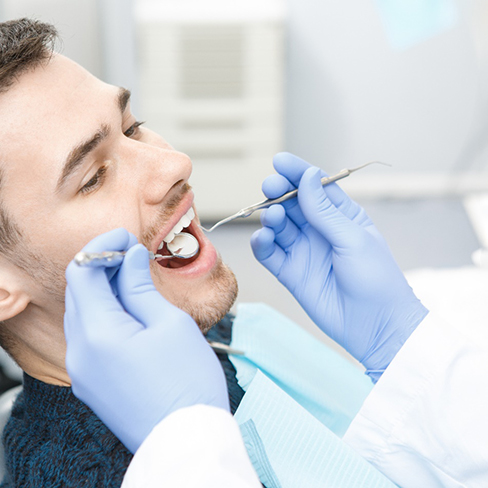 Dental emergencies can often feel overwhelming or unsettling, especially if they happen when you least expect one. While you'll need to seek treatment from a dentist as soon as possible to avoid further complications, it's natural to want to know as much as you can before arriving at your appointment. To help you feel more comfortable and well-informed, our team has taken the time to collect and answer some of the most frequently asked questions our emergency dentist in Huntsville gets from our patients. Read on or give us a call today if you wish to learn more or need to schedule a visit!
Will My Toothache Go Away On Its Own?
It may be tempting to simply allow your toothache to heal by itself like other parts of your body. Unfortunately, any discomfort or pain in your pearly whites will not typically go away on its own. Even if it does seem to vanish after some time, this could actually mean the nerves within are severely damaged, cutting off any sensation in the tooth altogether. That's why it's best to schedule a visit with your dentist so that they can assess your mouth and ensure there are no serious concerns. There are several reasons why your tooth may be hurting, such as cavities, gum disease, or an infection, so they'll need to rule them out as quickly as possible. This could even prevent any issues from becoming more severe, preserving your teeth in the long run.
Should I Visit the Emergency Room First for Dental Emergencies?
Most emergency clinics won't be able to treat urgent dental situations effectively. That said, there are usually three main reasons why it would be better for you to visit your local ER. If you've experienced a serious laceration or cut to the mouth or face, a fractured or dislocated jaw, or an infection or abscess that's making it difficult to swallow or breathe, then head straight to an emergency room. In any other case, you should consider visiting your dentist first, as they'll provide the necessary treatment for your oral health.
Should Knocked-Out Teeth Be Placed in Water?
Although you can use water to rinse off any debris or dirt from a knocked-out tooth, you won't want to store it in water. The particles in this liquid can end up damaging the root surface cells of the tooth, which can lower the chances of saving it or placing it back in its socket. Try gently fitting it back in place, but if you aren't able to, make sure to store it in a container of saliva, saline solution, or milk. Afterward, you'll need to see your dentist within an hour of the incident for the best chance of saving your tooth.
How Should I Sleep with Tooth Pain?
If you're having difficulty sleeping with a toothache, you'll want to first try elevating your head. This will help keep blood from rushing to your mouth and exacerbating the discomfort. You should also take over-the-counter pain medications as directed to help numb the aching. Make sure to avoid foods that are too hard, cold, or acidic before bed, as these can make the sensations worse. Try using a cold compress to help dull the pain and minimize any swelling in the area until you can see your dentist.