Dental Implants – Huntsville, OH
Lifelike Replacement Teeth Built to Last
No matter how many teeth you're missing, you'll want to replace them with a solution that looks great, feels natural, and stands the test of time. At Northwest Family Dental of Huntsville, we're proud to offer dental implants, which are lifelike replacement teeth that are built to last. Since Dr. Kevin Grill can complete the entire procedure from start to finish right here in his office, he can ensure your treatment is top-quality every step of the way. To learn more and schedule your consultation for dental implants in Huntsville, call our dental office today!
Why Choose Northwest Family Dental of Huntsville for Dental Implants?
Dental Implants Placed & Restored In-House
Low-Interest Dental Financing Available
Modern, Comfortable Dental Office
What Are Dental Implants?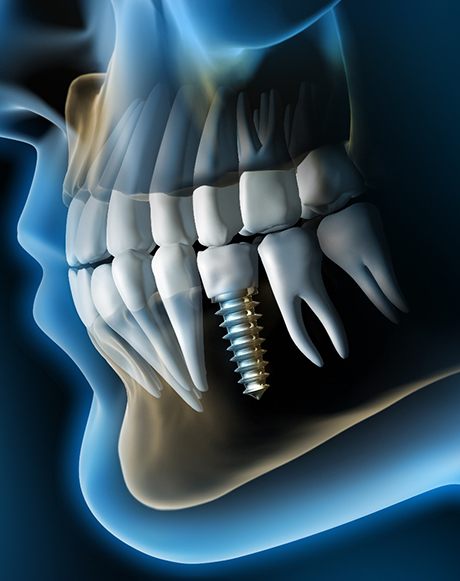 Instead of sitting on top of your gums or remaining teeth like dental bridges and dentures do, dental implants are embedded directly into your jawbone. They are basically artificial tooth roots. Since they're made from biocompatible titanium, they naturally begin to integrate with the jaw after being placed. This gives them the same sturdiness as your original teeth. When this process – called osseointegration – is finished, Dr. Grill can attach a dental crown, bridge, or denture to the implants to bring back the appearance of your smile. Essentially, dental implants are built just like natural teeth, making them the closest thing possible to reversing your tooth loss!
The 4-Step Dental Implant Process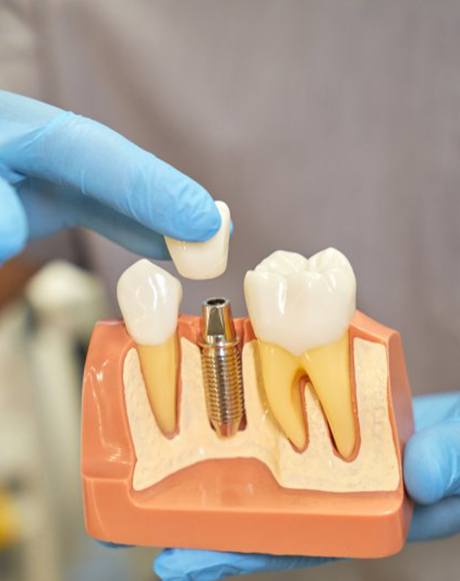 First, you'll attend an initial consultation with Dr. Grill in order to determine whether dental implants are ideal for you.
After you get the green light, you'll be scheduled for dental implant surgery at our practice. Dr. Grill will expertly place the implants into your jaw during this procedure.
Over the next three to six months, your jawbone will fuse with the implant posts.
After your implants are firmly in place, Dr. Grill will secure your restoration (crown, bridge, or denture) on top of them to complete your smile.
Benefits of Dental Implants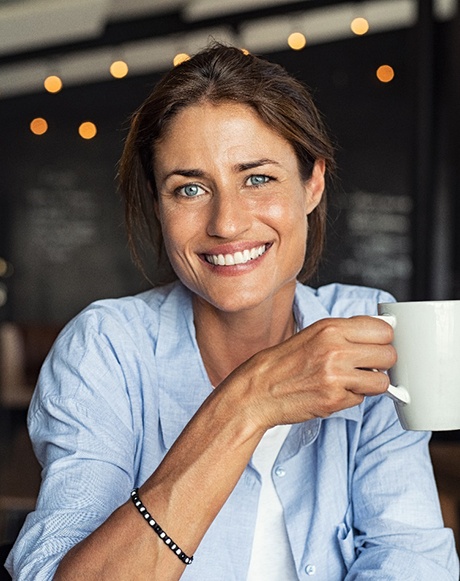 More than five million Americans currently have at least one dental implant, and it's not hard to see why this solution has become so popular. Some of the unique benefits of dental implants include:
Natural appearance and feel.
Enhanced chewing power.
No slippage.
Easy daily hygiene routine.
Potential to last for 30+ years or even a lifetime.
Who Dental Implants Can Help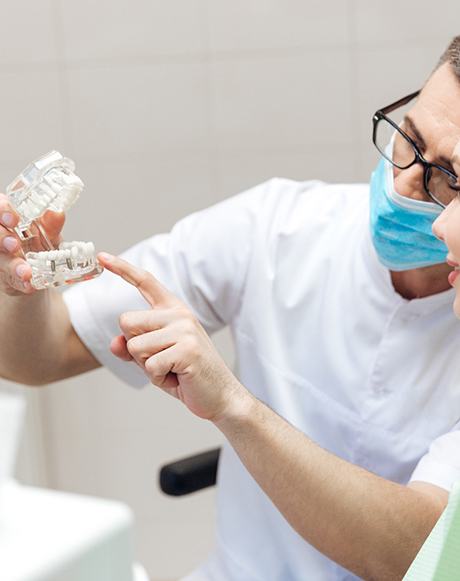 Dental implants are undoubtedly the most versatile way to replace missing teeth. Whether you've lost one tooth or an entire mouthful, they can bring back your smile in a way that flawlessly mimics the original. Practically any healthy adult with a strong jawbone is suitable for this treatment, but the details may vary depending on the number of teeth you need to replace.
Missing One Tooth
To recreate a single missing tooth, a dental implant can be placed into the jaw where the tooth's roots used to be. After it has merged with the jawbone, Dr. Grill can attach a crown on top for a solution that completes your smile without modifying any of your remaining teeth.
Missing Multiple Teeth
A traditional dental bridge requires removing enamel from the surrounding teeth for support, but we can also anchor a bridge onto dental implants to replace three or more consecutive teeth while preserving the rest of your smile. A small number of implants can also hold a partial denture in place for several missing teeth that aren't in a row.
Missing All Teeth
Even a full denture can be supported by dental implants. In most cases, it only takes between four and eight implant posts positioned strategically along the jaw to keep an entire row of prosthetic teeth in place in such a way that you'll never need to worry about slipping or gum irritation. Plus, implant dentures can be either removeable or fixed, depending on your preferences and needs.
Understanding the Cost of Dental Implants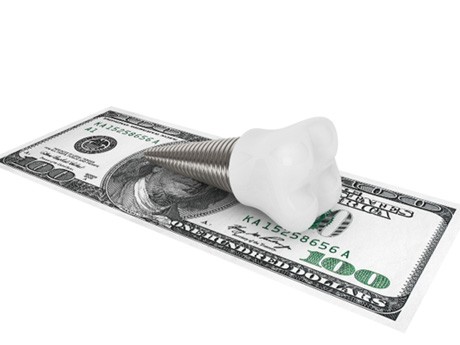 Dental implants offer lifelike, long-lasting results, and these effective smile restorations require patients to make a larger investment of time and money upfront than other solutions. Since no two treatment plans are exactly alike, our team at Northwest Family Dental will walk you through every step and the price associated with each before we begin restoring your smile. With this in mind, keep reading to learn some of the factors that influence the cost of dental implants in Huntsville, and contact our team with any further questions.
Preliminary Treatments & Dental Implant Surgery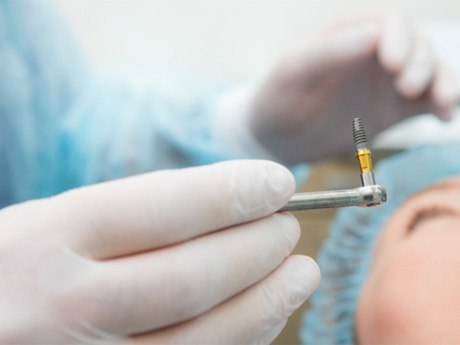 If you have existing oral health problems, you'll likely need preliminary treatments before moving forward with the dental implant process. Even though services like gum disease treatment, tooth extractions, and bone grafting will add to the overall cost of your treatment, depending on your case they can be necessary to maximize the lifespan of your new smile. Fortunately, most of them are partially covered by dental insurance.
Keep in mind that dental implant surgery has a cost of its own. The good news is that we offer in-house implant placement, meaning you won't have to worry about receiving a bill from an outside specialist. You can look forward to compact and simple fees instead of multiple payments to various practices!
The Parts of Your Dental Implant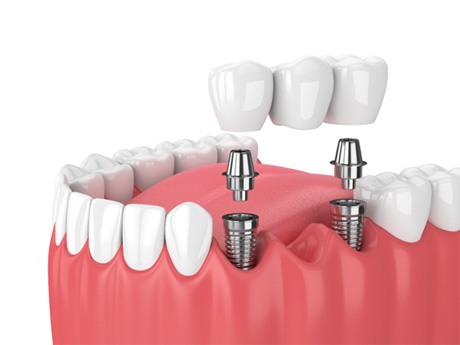 When it comes to dental implants in Huntsville, the cost is affected by multiple factors including:
Material – Implants made of zirconia instead of titanium typically cost less.
Brand – Manufacturers make dental implants differently based on the needs of each patient. Be sure to ask your implant dentist where you're getting yours from as well as any brand-specific benefits.
Number of Dental Implants – Obviously, replacing a single missing tooth with one dental implant will cost less than replacing an entire row with an implant denture.
Type of Restoration – Crowns, bridges, and dentures each cost different amounts. Expense corresponds to the size of the restoration.
How Dental Implants Can Save You Money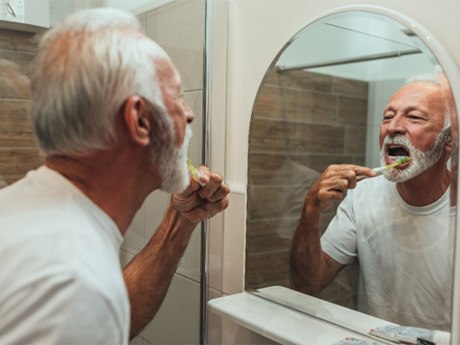 Patients on a budget often choose dentures or dental bridges as their method of tooth replacement because they're cost-effective. Even though dental implants have a higher upfront cost, they end up paying for themselves over time. For example, you won't need to spend on replacements or adjustments every few years.
You also don't have to worry about purchasing special pastes, solutions, or other products to maintain your rebuilt grin. All you must do is care for your implants like you would for your natural teeth! Since they're easier to maintain, you can more easily avoid oral health issues that would require costly dental treatment.
Does My Dental Insurance Cover Dental Implants?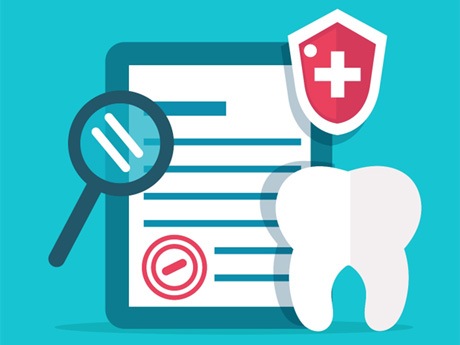 Most dental insurance plans do not offer coverage for dental implants. However, there are some exceptions. Certain parts of the final restoration or your preliminary treatments might be eligible for coverage. Before committing to anything, contact your insurance provider to confirm the details of your coverage. Our team is happy to help with that step if needed!
Making Dental Implants Affordable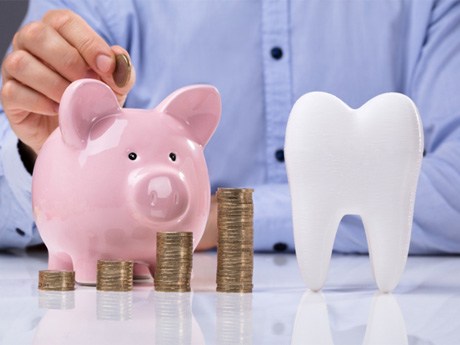 Don't have dental insurance? No problem! We work with third-party financiers to help make your dental bills much easier to manage. With CareCredit, you can sign up for low-to-no-interest payment plans to break up the overall cost of your treatment into smaller monthly installments.
Also, we offer an in-house membership plan that provides a 20 percent discount on all treatments completed at our office during the membership year. Contact our team to schedule your visit with an implant dentist in Huntsville today.